Wine Tasting 2 venues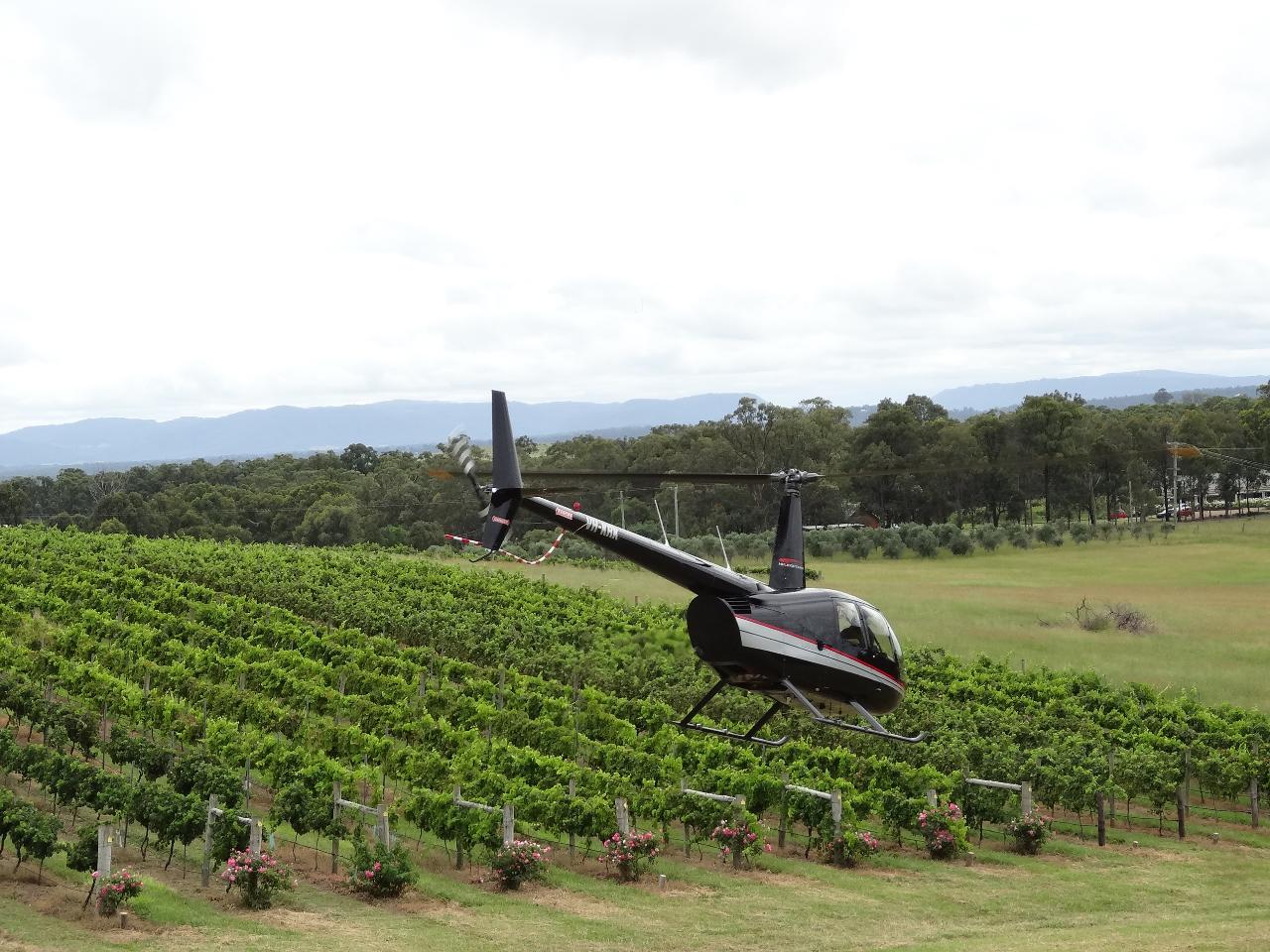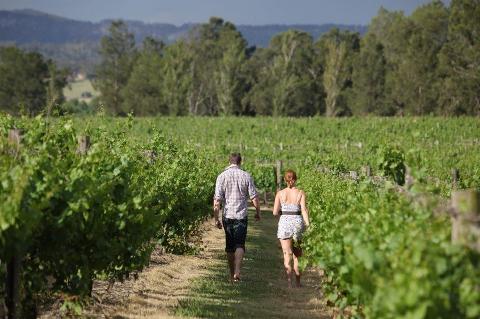 Duration: 2 Hours (approx.)
Location: Pokolbin, NSW
Product code: winery2
Have you ever wanted to go wine tasting?
How about in true VIP style? Get whisked away in your own personal
helicopter that will take you over the breathtaking Hunter Valley wine region,
you're own personal pilot will fly you over some of the most iconic venues and
wineries the hunter valley has to offer. You will then start your descent into one
of our internationally acclaimed wineries for a 45-minute tasting of their
world class wines, from there you will be picked up by your personal pilot and
taken to your second winery of your choice where you will have another 45 minute
tasting after the tasting you will be flown back to Cessnock airport in true VIP
style.
Package Includes:
Your own personal helicopter and pilot
Departure from Cessnock airport
Helicopter transfers between wineries
Breath taking views that you can only get in a helicopter!
World class wine tastings
Some of our wineries you can pick from:
Ivanhoe: https://ivanhoewines.com.au/
Ivanhoe Wines is an 80 acre vineyard, nestled in the parish of Pokolbin NSW. The
secrets of their fertile land lay underground in the rich volcanic soils.
Generations of wine making experience, united with 50 year old vines which
produce some of the Hunter Valley's finest fruit, is what makes their wine and
Ivanhoe so unique!.
Glandore Estate Wines: https://glandorewines.com/
Glandore Estate Wines was established in 2005 after the procurement of the
original Brokenback chardonnay vineyard on Broke Rd. From day one the aim
of Glandore Estate wines has been to produce wines of great character, regionality
and style from the traditional varieties known in the Hunter Valley. This has been
achievable through the strict selection of some of the Hunter Valley's most distinguished
old vine vineyards. Thinking out side of the square we have also started to forge ahead with
new and exciting varieties to the Hunter Valley such as our superb Tempranillo.
(Tasting includes Matched chocolates with wines.)
Keith Tulloch: https://keithtullochwine.com.au/
The art of winemaking is a focus on excellence with a commitment to create wines
with personality, without compromise. This vineyard estate in Pokolbin is where Keith and their small
team create Hunter Valley wines that fully embrace and respect the terroir of
our vineyard sites and the growing season through generations of knowledge and
innovation.
Bimbadgen: https://www.bimbadgen.com.au/
For well over a century, Hunter Valley wine growers have refined variety, technique and style to achieve
universal recognition and acclaim for its long-lived Semillon, full flavoured
Chardonnay and elegant Shiraz. These three classic varieties are the primary
focus of Bimbadgen's Hunter Valley vineyards.
Cock Fighters Ghost: https://cockfightersghost.com.au/
A visit to the spacious contemporary Cockfighter's Ghost Cellar Door is one of the
highlights of a visit to the Hunter Valley. It is located on the historic Post
Office Vineyard and is surrounded by the region's oldest shiraz vines dating
back to the 1890's, which makes our Flagship Poole's Rock Shiraz. Meet the
vibrant Cockfighter's Ghost team who will introduce you to the complete
Cockfighter's Ghost and Pooles Rock portfolios.
McCaffery's Estate: https://mccaffreysestate.com.au/
As one of the smaller producers in the Hunter Valley McCaffery's estate has 11 acres under
vine and produce a variety of wines including Sparkling, Semillon, Chardonnay,
Rosé, Merlot Cabernet, Cabernet Franc, Shiraz and a Fortified Verdelho. This small family
owned and operated winery is a must visit on any trip to the Hunter Valley!!!.
Usher Tinkler: https://ushertinklerwines.com/

Usher Tinkler is one of Australia's most dynamic young winemakers. Along with his grandfather and father, he is apart of three generations of farming expertise; the dairyman, the cattleman and the winemaker. They all share the same name and united passion for the land. As a tribute to this, Usher Tinkler Wines was born. Located in the original Pokolbin Church, that was built in 1905, the Usher Tinkler Wines Cellar Door showcases the brand that consists of a unique mix of wines. Shifting a gear in the Hunter Valley the wines are authentic yet adventurous. Blurring the lines between traditional and contemporary winemaking. Wines that create discussion – born for sociability.

Briar Ridge Vineyard: https://www.briarridge.com.au/

Since 1972, Briar Ridge Vineyard has been making wines of
quality and refinement.
Offering both an award-winning Cellar Door and
multi-award-winning wines, the time spent with the team at Briar Ridge Vineyard
will be one to remember.
Producing wines inclusive of the Hunter classics of
Chardonnay, Semillon and Shiraz to newer emerging varietals from further afield
such as estate-grown Albarino and Barbera - your palate will be both satisfied
and challenged.
Nestled in the serene Mount View region of the Hunter
Valley, Briar Ridge Vineyard offers ultimate comfort in approachable idyllic
surrounds.
Saltire Estate: https://www.saltireestate.com.au/
Saltire wines are born out of a passion and celebration of the Hunter Valley
and it's connection to ancient Scotland. The ancient ensign stirs the blood, evokes
pride and above all, commands a powerful allegiance.
The original vines planted in the Hunter Valley were planted by proud Scot, James
Busby in the early 1830s. Known as the father of Australian wine, Busby brought 500
cuttings from Europe to Australia and planted them in the Hunter region of Belford
not far from Lovedale. It is from these vines that the majority of existing Hunter Valley
vineyards were propagated.
​When the Leslie family purchased Saltire Estate in 2006 they chose to honour both
Busby and their own Scottish heritage by naming it thus. The land was originally
part of the much larger George Hunter Estate established by the Sydney
restauranteur, Oliver Shaul in the 1970s but these days, our Semillon, Chardonnay, Shiraz
and Merlot vines are all that remain of the 500 acre estate.
Tatler Wines: https://www.tatlerwines.com.au/
Tatler is a family-owned, Hunter Valley winery, cultivating quality wine that captures the spirit of Lovedale. With a hands-on approach, their wine is made on site. Designed to bring people together, they produce a varied portfolio of bubbles, whites, reds and sweets.
Their vision is to contribute to a world where the new benchmark for hospitality is inclusive, community-driven and quality focused, with spaces for people to come together and share quality moments of joy. Come and enjoy all that this Hunter Valley winery and
its surroundings
has to offer
We welcome you to customise your package
and add another winery from $75 per person!!! or if you have a sweet tooth
maybe a stop in at the mouth-watering Sabor dessert bar. These can be added to
your booking online!.
Please put the Wineries you would like to go in special requirements when booking your flight.
You can also request over the phone ( please call up asap as we will book in wineries when booking is received. )